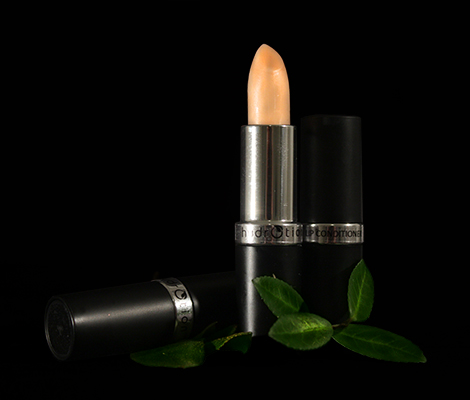 Lip Conditioner
All skin types
Protective lip conditioner for perfect lips.
Formulated with rich natural organic emollients such as almond and pomegranate oils.
High in antioxidants, vitamins and omega fatty acids.
Rich in tocopheral, natural vitamin E, which is 5 times more effective than synthetic forms of the vitamin and is essential for healthy beautiful skin.
Free of parabens, petrochemicals, phthalates, sulfates and artificial fragrances/dyes.
Ships FREE!
Options:
---
Skin Care Reviews
Laurel:





I cannot say enough awesome things about these lip conditioners -- I am completely hooked. Not only are the flavors amazing and unique, but they have left me with smooth, unchapped lips for the first winter in years.
---
Nicole:





This is, by far, the best lip moisturizing product I have ever tried. It is a good texture, unlike some products that can feel greasy or slimy, and it stays on for a long time. And after the product has worn off, it leaves your lips feeling so silky soft and smooth. And best of all, it tastes so yummy (I really love the chai flavored)! Definitely looking forward to using this during my hot Arizona summers.
---
Alexis:





Great feel-and great light scent. It puts regular old chapstick to shame!
---
Sarah M:





Love love love the pineapple coconut. It makes me feel like I'm in the tropics :)
---
Katie:





I love this lip conditioner. I have one in my pocket, one in my office, and one at home at all times. It stays on a long time, and my lips don't go through withdrawal when I forget to apply it (unlike what happened when I became addicted to Blistex years ago).
---
Robab:





The Chai and Pomegranate lip conditioners are the best I have ever used specially during the cold days. Love them.
---
Sam:





This is an excellent product and is far better than anything else I have tried. This conditioner protects from even the coldest winter days!
---
Linda:





I have been using the strawberry lip conditioner all winter, and it's been amazing for my dry lips! It leaves a light, non-greasy feeling, and with only a slight hint of scent so it's not over-powering. I generally like tinted lip balms, however, this one has made me a convert to the nude lip balm. It's perfect for all occasions, and I'm sure lipstick can be applied over it for a more dramatic look. I highly recommend this product!
---
Aspen:





love it! Works even when skiing! Great flavors too!
---
Heather:





I love this! It's the Best for chapped lips and it stays on for hours!
---